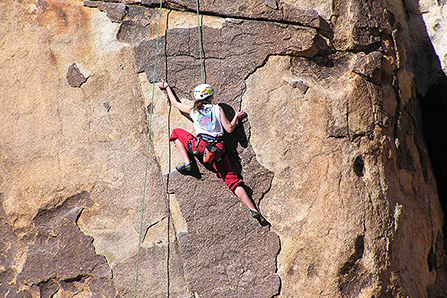 On the surface, I might appear to always possess supreme powers of workout motivation, but just like everyone else, I struggle at times to make it through my prescribed workout program. However, as a rock climber who continues to reap the benefits of a sound climbing training program, I am committed to sticking to my exercise plan. When my gym or weight-training motivation wavers, I've found that the following simple steps can help keep me on task.
Ways to Regain and Maintain Fitness Motivation
From the easiest to the most involved, here are five steps you can take to get yourself up off of the couch and into that climbing or fitness workout routine the next time your commitment slackens for whatever reason:
Set both training and climbing (or fitness) goals.
Having some clear, concrete short-term and long-term goals for both training and for climbing (or your sport) can help keep your workout motivation high. Whenever you feel lackluster, remind yourself of the reasons behind this workout routine and the results you're working toward.
Break it into bits.
Whether you end up breaking your workout routine up for real or not, this tactic can work wonders for getting yourself started. It's particularly effective for compartmentalized workouts, like strength-training workouts. Tell yourself that you only need to do one part of the workout program, for five minutes. Do one set each of three exercises out of the plan. Often, this is enough to jumpstart my weight-training motivation, and I continue through the rest of the workout from there. Other times, it may end with five minutes (especially for the very busy person). That's fine. Five minutes here and there can add up to a solid strength-training workout over the course of a day.
Keep a training journal.
Writing down each day's climbing workout plan in my training journal in advance helps keep me on task. Having the exercise plan on the schedule provides great workout motivation to get me going. Plus, I enjoy looking back at my previous days of training and comparing notes. You can even use an online training journal to increase your fitness motivation.
Work out with a partner.
Making a commitment to another person to follow a workout program makes it harder to back out if you're not feeling psyched on a particular day. Enlist one of your climbing partners to join you on your quest for improvement, especially for your strength-training workouts and/or weight-training sessions, since these are some of the more difficult and less fun aspects of a sound climbing workout program. You can both depend on each other to help keep the gym motivation levels up as you work toward your goals.
Hire a personal trainer or climbing coach.
For some people, this proves to be the magical missing ingredient. A coach or trainer will hold you accountable for sticking to your workout routine while also providing valuable insights, feedback, and that coveted workout motivation. This authority figure can also assist you in designing and impelementing an effective climbing workout program based on your individual needs.
Finding and Keeping That Workout Motivation
If you have difficulty staying psyched on your climbing workout program or exercise routine, try employing some or all of the tactics described above to push your motivation levels. Tap into your own resources by setting specific goals, breaking up your exercise plan into chunks, and keeping a training journal. Reach out to others by inviting a climbing partner to become your workout motivation partner, or consider hiring a personal trainer or climbing coach to help keep you on task.